Education. Motivation. Support.
Emma Hendrie Personal Training offers bespoke Personal Training and Nutrition Therapy from our private studio in Binley Woods nr. Coventry.
Our trainers provide you with education, motivation and support to help you achieve your goals.
We believe accountability, dedication and consistency are all key factors in improving your health and wellbeing.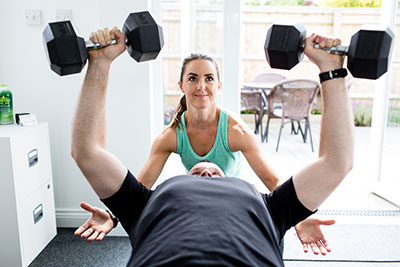 "Since the birth of my son I've lost my confidence about training and unsure about where to start. Emma gave me the support I needed to safely begin training and made it pay off by specifically targeting my problem areas. I would definitely recommend her!"
"I've been going to Emma for just coming up to a year now.
I did a fair amount of exercise any way attending her boot camp twice a week which is awesome. I wanted to do a bit more but with hating the gym I opted for pt sessions.
I have definitely improved my strength and fitness in the past year and starting to notice my shoulders and arms are looking more toned which is one of the reasons for me starting with Emma.
She works you hard but makes it enjoyable. I 100% recommend her to any one thinking of dong some pt sessions she definitely will get you the results you are after."
"After years of watching World's Strongest Man on the television, I wondered if I too could join this legendary group and push for title of Lancashire's Strongest Man. Lifting cars, towing planes, jogging with a buffalo under each arm was my vision of training. Rather quickly Emma informed me that whilst she couldn't source the buffaloes, she was willing to help me get fit. Over the past three years Emma has individually tailored my training plan to ensure it meets my objectives of gaining a better body shape, becoming stronger, whilst improving my stamina. Her training is always creative, organised and delivered with a smile. Be warned she can be somewhat draconian when it comes to counting reps and won't allow any opportunity for creative counting (1, 3, 5, 10) – boo! Overall, if you want a trainer who takes the time to understand your needs, delivers sessions which actually respond to those individual requirements, and who will be a genuine partner in your fitness goals, you couldn't ask for anyone better than Emma Hendrie."
"After years of going to the gym and never seeing any results it was time to invest in a personal trainer!
I have been training with Emma for 3 months and am now more motivated than ever and I can honestly say I had never worked as hard until my first personal training session.
To anyone thinking of working with a personal trainer – I would definitely recommend Emma!"
"Four months after having my first baby I knew I needed to give my body a helping hand to shift the baby weight. Instead of joining a gym which I realistically knew I would never go to, I decided to invest in 'Emma'. It was the best decision I have made! Making appointments means I have to attend, she works me hard at every session (lets face it we would do the bare minumum at the gym) and my body is coming back to pre-baby shape. Im feeling more confident, fitter, toned and strong – which I need to carry my little chap around. Emma really understood what I wanted to achieve and Im doing excercises that I really enjoy – it's the best investment I could have made. Also on the selfish side – I love my hour session… it's my time!!"
"Fantastic personal trainer who puts you at ease as soon as you walk in the door! Make no mistake, once inside the door, Emma puts you through your paces, but she does it in such a way, it's fun! You do exercises you never thought you could! So if you want to improve fitness and eating habits, this is the positive environment you are looking for."
"Emma is professional, knowledgeable and brings enthusiastic commitment to each of our sessions.
The results I have achieved to date are largely due to Emma's ability to work with my Physiotherapist's rehabilitation plan, combined with her knowledge of muscle and movement.
Emma's careful and skilled approach has enabled me to maximise the benefits of my Physio's plan in very many ways, all of which I would be unable to do on my own.
Twelve months since starting PT with Emma my episodes of pain are reduced and far less frequent. Quality of life is much improved."
"I started training with Emma back in 2013 in an effort to lose baby weight and what I have achieved is so much more! Not only has my overall strength and fitness improved but thanks to Emma's nutritional advice, I am also much healthier on the inside too! Each session is tailored to you and Emma has also specifically adapted the sessions to deal with my long standing knee condition, which has improved as a result. Emma is very down to earth, very supportive and strict when she needs to be – and there's always time for a chat too!"
"Emma is a superb PT – my weekly sessions are challenging but fun and I am always walking away feeling like it has made a difference. It's not just the training though, Emma offers advice and support with diet and exercise regimes. I would have no hesitation in recommending Emma, she is incredibly motivational and patient. To be honest, I am surprised that she has put up with me and my swearing / rolling eyes throughout our PT sessions for so long!"
"I've been training with Emma for 3 years now. Where has time gone!? I'm sure it doesn't feel like that for Emma! Every session I say to myself 'don't whinge' but I do, I'm not sure how she puts up with me? Every session she includes something I think is beyond my strength, fitness or ability. 9 times out of 10 she is right…… I can do it! I try and negotiate sometimes…………………it doesn't make any difference.
I've had injuries along the way. Not caused by Emma I might add and she always takes this into account and plans a session accordingly. She still manages to push me but without exacerbating the injury, enabling me to workout regardless of the injury.
If I trained myself or went to classes I'd both a) cheat myself and ease off if I'd had a 'tough day' at work or b) drive round the car park and go home. I've done both in the past but not since I've been training with Emma.
Why do I keep going? 1) I wouldn't push myself. 2) I wouldn't have a varied workout. 3) I couldn't plan workouts that worked every bit of me. 4) I enjoy it! (I never ever thought I'd say that about going to the gym!). Each session is different, lots of variety and my form is always corrected (especially if I work out a way to make it easier).
Emma will take you from your staring point and help you improve your fitness and strength. If you like her PT try her bootcamp, she doesn't take any prisoners there either"
"Despite the pain that I know will follow the next day, I always look forward to training with Emma. She's supportive, kind and knows when to push you that little bit further. Emma really commits to helping you achieve your goals and plenty else along the way. I thoroughly recommend her."
"Emma was recommended to me over two years ago, and our relationship works something like this: I turn up at her studio every week and tell her I don't want to be there. She tells me what exercises we're doing (sometimes several times, because once you're tired, it's just not going in…) I tell her she's bonkers if she thinks I can do THAT. Me: "I can't do it… I can't do it… [randomly insert occasional expletive] Oh. I did it!"
Emma knows her stuff absolutely inside out: she's patient, encouraging, totally professional and I regularly recommend her to anyone who'll listen. She's also great fun and the only good exercise habit I've ever managed to keep up for this long."
"Since the birth of my son I've lost my confidence about training and unsure about where to start. Emma gave me the support I needed to safely begin training and made it pay off by specifically targeting my problem areas. I would definitely recommend her!"
"I have been going to the gym for about 2 years and have never thought about having a personal trainer until I decided that what I was doing wasn't really making much of a difference.
I've been training with Emma for two and a half months and I'm really enjoying training for the first time in a long time!
Emma has given me the confidence to do things I thought I couldn't do, having never ran before – I've just completed my 3rd 5K!!!
I would highly recommend her."
"Previously I'd go through the usual gym routine and after 2-3 months I'd just stop! Since training with Emma I can now see and feel the improvements in such a short space of time. With new workouts and routines put into place, exercise is now fun with a feeling of longevity towards keeping fit and staying healthy"
Rob
European Institute of Fitness (EIF) – Head Coach
"Emma was a student at The European Institute of Fitness studying for the Level 3 Diploma in Personal Training. During her time at the institute I found her to be an excellent student who respected and was respected by her peers. The most impressive thing I found was her passion for exercise and the commitment and effort she put into her work. Emma is extremely knowledgeable and an excellent instructor of both exercise and behaviour support. She excelled both practically and theoretically and graduated as one of a very small handful of Level 3 trainers who achieved Master Trainer status.
She is an excellent Personal Trainer."
"I was referred to Emma by my GP as she was doing nutritional/activity sessions with individuals with weight problems.
Emma explained all the nutritional reasons why certain foods could stop me from losing weight. At the time I was eating WAY too much fruit and although I thought it was healthy the excess sugar was stopping me achieve my goals. I had been attending Rosemary Conley classes (although I couldn't do the exercise as I'm waiting for back surgery) but I wasn't managing to lose any weight, only maintain it.
I needed to lose three stone before I could have my surgery. Within the first two weeks I had almost lost a stone and I was genuinely excited that my new knowledge and use of "myfitnesspal" was working for me! By week four I had lost a stone and a half. I found the program really easy to follow and am still following it today. I have now LOST the THREE STONE and can't thank Emma enough for being there with me all the way, keeping an eye on me, supporting me when I have gone astray. Many thanks to Emma who still keeps an eye on me…"
"Emma has been training me for quite a long time now, and I have always enjoyed and benefited from our sessions.
Perhaps due to advancing years, I may have nurtured high ambitions which I haven't been able to live up to, but Emma has consistently managed me towards doing what was needed and I have definitely achieved things that I hadn't previously thought possible. I am undoubtedly better and fitter now than I have ever been before.
I am also happy to have Emma's help and advice on nutrition and exercise, this has proved very valuable and to some of it I've actually paid attention.
Emma is Number 1 in my care team."
Funny John
Leamington Spa
"Dearest Prospective Client,
I have been working with Emma for several years now, and I am proud to say that together with my friend and ally James, we are Emma's favourite and best clients. (OK maybe not just James, but Anne too.) Our efforts and diligence have undoubtedly helped Emma to become the magnificent trainer that she is today. We also think we have made a considerable contribution to Emma Hendrie Personal Training – Anne thinks she owns the front wheels of Emma's car.
We have provided a constant challenge for Emma, to help improve her technique by the constant application of creative counting, skiving and claiming pensioner discount. This has enabled us to get through a number of her sessions, until she invented the famous and worrying phrase "Perfect Form". Even with this annoyance we have still managed to encourage her to even greater things.
Another debate which has run several times is why PT's are allowed to train more than mere mortals, Emma has had several last words on this so far, being less than half my age seems no excuse at all.
I can only say, that despite all of the above, Emma is great – come and join us!!!!!!!!!"